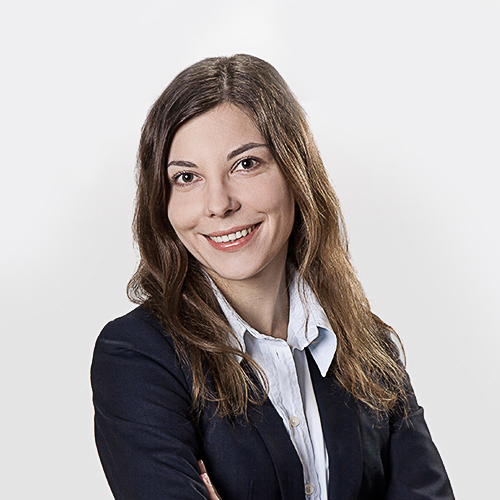 Attorney-at-law at the GJW Legal Office. Specializes in providing legal support related to projects financed from EU funds and comprehensive legal services for procurement processes implemented both pursuant to the Public Procurement Law and based on the principle of competitiveness. She supports clients in the implementation of projects co-financed from EU funds, as part of operational programs such as POIR, WRPO, RPLB, POIŚ and others. For many years she has been involved in the provision of multi faceted legal assistance for companies in the power industry.
Her specialization also includes labor law. She provides legal support on issues related to recruitment of employees, establishment, change and termination of employment relations, non competition, accidents at work, occupational health and safety, development of internal sources of labor law regulations, salary incentive plans and non-salary benefits. She also prepared and negotiated management contracts. She provided legal support in the course of the process of negotiating a collective labor agreement, prepared additional protocols for Collective Labor Agreement (ZUZP) and prepared an interpretation of the provisions of the Collective Labor Agreement. Repeatedly advised in the process of restructuring of employers, including the transition of the workplace under Art. 23 (1) KP (Labour Code art. 23(1)).
She has many years of professional experience. Immediately prior to the beginning of cooperation with the GJW Legal Office, she served as a judge's assistant in the District Court Poznań-Grunwald i Jeżyce in Poznań in the Civil Department and the Labor Department.
She represents clients implementing EU projects in the course of contacts with financing institutions (including, at the stage of payment claims verification). She has experience in representing clients before the National Chamber of Appeal.
She has got vast experience gained in many complex business projects. She participated in the works related to obtaining the consent of UOKiK (Office of Competition and Consumer Protection) for the concentration related to the creation by Enea S.A. and Energa S.A. a joint venture under the name of Elektrownia Ostrołęka (Ostrołęka Power Plant), provided legal advisory services in the course of a multi-faceted purchase project implemented by one of the largest  capital groups in Poland. Annually, she provides legal support to clients regarding over one hundred procurement processes, including procurements made in the course of many research and development projects. She provided legal support in the course of investments related to the construction of wind farms. She also conducted trainings in the field of energy law and publishes online in legal web portals.
Attorney-at-law. A graduate of the Faculty of Law at Adam Mickiewicz University  in Poznań. She participated in the annual Academic Exchange of America in the USA. She is fluent in English.