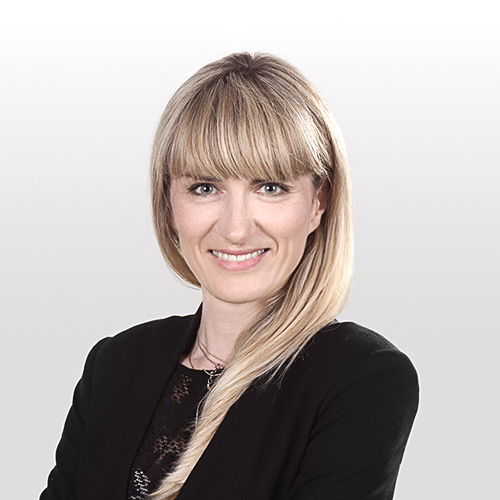 Legal Advisor/Counsel at the GJW Law Office. She specializes in support of investment processes, telecommunications law, IT and the labor law. Her professional practice also includes transactional and reorganization processes implemented within the capital group.
She is an active trial lawyer that represents clients before common courts (in commercial and employee disputes) and in administrative proceedings. She also has experience in managing the business entity operating on the market of educational services.
For over three years, she provided multi faceted legal assistance to a telecommunications company. Starting from 2013, she provides legal services to the companies of the capital group dealing with the production activity.
She participated in projects carried out on the telecommunications services market and IT projects, provided legal support in investment processes regarding telecommunications and broadband networks as well as construction investments. She supported clients in the implementation of investments co-financed from UE funds, including the subsidy settlement stage. She also participated in purchase projects, including those implemented under Public Procurement Law – she has experience in developing and reviewing tender documentation and representing clients before the National Chamber of Appeal.
She provides legal services both to large companies operating within the structure of the capital group and smaller entities of the SME segment. She provides ongoing legal services to entrepreneurs, including in the field of labor law. She advises on issues related to recruitment of employees, establishment, change and termination of labor relations, non-competition clauses, accidents at work, work safety regulation (OHS) and the development of internal labor law acts. She has extensive experience in drawing up and negotiating commercial contracts. In her legal practice, she also participated in the processes of capital transformation of commercial law companies, and supported entrepreneurs in designing and negotiation of terms of commercial transactions and in the implementation of Internet projects. She is fluent in English, including the legal terminology.
She completed legal training at the District Chamber of Legal Advisors in Poznań. Law graduate from the University of A. Mickiewicz in Poznań.